Is Your Life Like a Bowl of Cherries?
Life Can be a Bowl of Cherries or It Can be Just the Pits
I have a question for you.  Are you on my email list?  If not, you need to sign up because I will be sending out a "Free" gift on June 19th at 1:00 pm PT to everyone on my email list.  You must be a confirmed subscriber to receive this gift.
Signing up is so easy!  Click on this link EMAIL LIST, fill out the form with your name and email address, click SUBMIT and you will receive a message asking you to confirm that you actually signed up.  Respond to that email and that's it.  It takes about 1 minute of your time and for that you will be rewarded with the FREE Gift.
There are so many cliches about life, for example, the one on this card "Sometimes life is just a bowl of cherries…and sometimes it's just the pits.  I remember reading this one in an Erma Bombeck newspaper column after she had been diagnosed with breast cancer.  She had a positive effect on so many people during the fight for her life and continued to write books and columns filled with humour.  Sometimes humour is the best medicine as it get us through the tough time.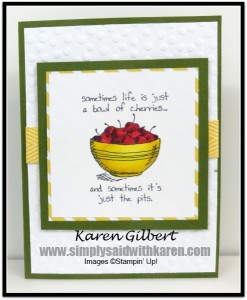 Recipe
Stamps: Giggle Greetings (c-131065, w- 131062, p51 2014/15 Annual Catalogue)
Paper: Whisper White, Mossy Meadow, Lullaby DSP
Ink: Memento Black, Cherry Cobbler Blendabilities, Daffodil Delight Blendabilities
Accessories: Big Shot, Decorative Dots Embossing Folder, Crushed Curry 3/4" Chevron Ribbon
Here are couple more of Erma's quotes, I hope you get a giggle.
All of us have moments in our lives that test our courage. Taking children into a house with a white carpet is one of them

If you can't make it better, you can laugh at it.

There is nothing more miserable in the world than to arrive in paradise and look like your passport photo.
Before you leave, sign up for my email list
HERE.
Happy Stamping