I hope everyone had a wonderful Christmas and didn't eat too much turkey and those very important sweets.  Of course, I do hope that everyone was able to spend some time over the holidays with their loved ones.
We have a Boxing Day birthday in the family.  Kian is 1!  What better way to celebrate a 1 year old's birthday than with Henry the Elephant.
I just love this little guy.  He will be available for purchase when the new Spring 2013 catalogue goes live on January 3rd.  Can you believe that we are only a few days away from a new year?  Where did the last one go?
Since I retired a year and half ago, the time has just sped up….or at least it seems like it did.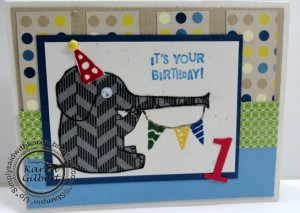 Stamps: Henry Says (c – 128093, w – 128090, 2013 2013 Spring Catalogue)
Paper: Naturals White, Marina Mist, Crumb Cake, Whisper White, Real Red, Print Poetry DSP, Howlstooth and Scaringbone DSP,  
Ink: Black Stazon, Marina Mist, Real Red
Accessories: Big Shot, Garden Green, Midnight Muse, Daffodil Delight Markers, Brights Brad, Googlie Eye
Henry's birthday hat sports a Daffodil Delight Brad and of course the Googly Eye is the perfect touch.  Henry is stamped on the Howlstooth and Scaringbone DSP and then cut out and attached to the Whisper White card stock.  The banners were placed perfectly on his trunk with the help of the Stamp-a-ma-jig.
  Want a refresh on using the Stamp-a-ma-jig?  View this video which was originally posted on July 31, 2012.  
Stamp-a-ma-jig Technique
Learn techniques and get valuable tips.  Watch the video.
Is your paper crafting wish list bigger than your bank account?
Do you live in an area where you don't have access to a stamping club?
  Karen