Groundhog Day Stamping – Will There Be 6 More Weeks of Winter?
Groundhog Day Stamping
What does Groundhog Day Stamping have to do with anything?  Canada and the United States celebrate Groundhog Day on February 2nd.  Why do we have groundhog day?  After enduring several months of winter, with its snow, rain and cold, it is human nature to look forward to spring.
When the groundhog comes out of his burrow on February 2nd, will he see his shadow or not?  If he sees his shadow, he will run back into his burrow.  We know that winter will last another 6 weeks.
What would you do if you have another 6 weeks of stamping?  Would you bemoan the fact that spring is not going to make an appearance soon or would you be delighted that you could get some more stamping, cardmaking and scrapbooking done.  We all know that spring is a busy time.  The garden needs tending, the kids outdoor sports are starting up again, visitors may arrive on your doorstep.  In essence, life gets busy, leaving very little time to stamp.
If there is 6 more weeks of winter, here are a few suggestions for you:
Get ahead start on some of the cards you will need over the next couple of months.
Create and stamp cards that remind you that spring is coming.
Try a new technique…there is time right now.
Attend a class and enjoy time with other like-minded people.
Here is a card that will remind you of Spring and uses new products from the 2017 Occasions catalogue.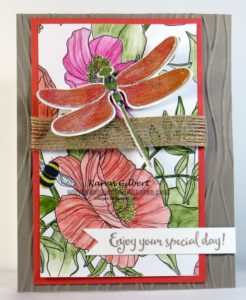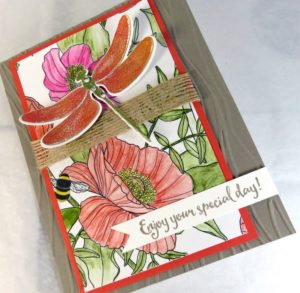 Recipe – Click on the item links to see the products
Stamps: Dragonfly Dreams.
Ink/Markers: Watercolor Pencils, Old Olive, Smoky Slate, Calypso Coral.
Paper: Thick Whisper White, Whisper White, Calypso Coral, Smoky Slate, Inside The Lines DSP.
Accessories: Big Shot, Seaside Textured Impression Embossing Folder, Detailed Dragonfly Thinlits , 5/8" Burlap Ribbon, Rhinestone Jewels.
One of the ideas suggested is to take a class.  The Annual Birthday Card Class is happening on February 16, 17, 18, 2017.  Create 8 cards – 2 cards of 4 different designs. Registration fee is $35.00 and includes all supplies.
For more details check out this LINK and contact me for more details, or RSVP at the bottom of the invite.
So, try some Groundhog Day stamping.