Good-Bye to Some Products – 2015 Holiday Catalogue
Good-bye To Holiday Products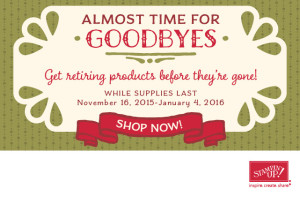 It's always hard to say good-by no matter what we are saying good-bye too.  Soon it will be time to say "good-bye" to the 2015 Holiday catalogue.  While not all products in the catalogue will be gone, your favorite item may be gone.  So, now it's time to have a look at those products that are retiring and never to be seen again.
One of the stamp sets that is retiring is the Jolly Christmas stamp set.  This stamp comes in wood mount (wood blocks included) and clear mount.  This would be a great stamp for Christmas cards, tags, home decor and more.  Add the Merry Moments Designer Series Paper Stack and the Snowflake elements and  you are good to go.
Here are some samples of items that you could create with the products:I have included a PDF in this post so that you can download and review at your convenience.  There is also a sortable Excel file to use.
PDF   2015_HolidayRetiringList
Click links to download.
Excel File  2015_HolidayRetiringList
Click Link to download
To purchase any of these items on the list, shop my ONLINE STORE
You can also EMAIL ME
It's always difficult to say good-bye, however, the best part, is that here will be room for new items.