Family Day Holiday Valentines Card
Today, British Columbia citizens celebrated the first ever Family Day!.  It's a day for families to spend together and it's the only holiday now between Christmas/New Years and Easter. 
Previous to the Family Day being declared a Provincial Holiday , it was always a very long stretch to Easter.  With winter being dreary, cold and the short days of sunlight, there is a reprieve.
However, there are still those who will not be able to take the holiday today to spend with family and those are the ones who provide services like the police, fireman, health care workers.  Hopefully they will receive an extra day at sometime to take that time with there families.
Of course many families are spread out and can't spend the time together.  I hope that they have reached out to others to perhaps make their day a little bit better.
So, what did I do?  I spent the time making Valentine Cards for my Grandchildren.  The first one I would like to share is the one for my Granddaughter, the girly girl.!  Of course nothing says Girly Girl like pink.  So, I took some artistic liberty and made Henry a pink polka dotted elephant.  I hope he doesn't mind.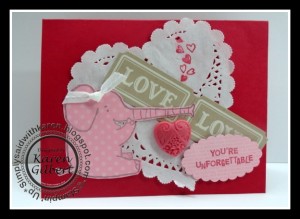 Stamps: Henry Says ( c – 128093, w- 128090, p15 2013 Spring Catalogue
Paper: Real Red, Subtle Stack DSP
Ink: Basic Grey, Real Red
Accessories: Artisan Kit, Whisper White Ribbon, Scallop Oval Punch
This card came together quickly because of the Artisan Kit.  Everything was in one place so I didn't have to go hunting for the doilies, the resin heart or the tickets.  How divine. 
The only thing that took a bit of time was fussy cutting Henry.  That was the least I could do for him when I turned him into a Girly Girl.
This kit is only $11.95 and is worth every penny..
See you next time with my Grandson's Valentine's Card
Happy Stamping!