Creativity – What You Need To Know
Creativity Can Be For Everyone
Creativity for some means create fear.  Why is that?  Some people think they do not have a creative bone in their body, some try and compare their work to others, some don't know where to start, and still others think their creations need to be perfect.
Well, guess what.  These fears are myths and with a little bit of time and belief in yourself, creativity will open up a whole new world.
Creativity is an expression of who and what we are and comes in all sorts of packages. I still would like to speak to my Grade 8 instructor who would fail my art projects.  I couldn't draw or paint to his liking and there is more to creativity than drawing or painting.  So enough with me and we will get back to you.
Sometimes the first thing that people think or say is "I am not creative".  Well, yes you can be and it only takes a bit of your time and ingenuity to create something beautiful.
When I hold my classes and clubs, I also hear " Sure doesn't look like yours".    My response is "it doesn't matter that your card doesn't look like mine, yours is unique to you and the person that you are giving it to will not know what mine looked like". 
Another comment is "I made a mistake".  Remember, there are  2 sides to every piece of paper, embellishments can help to cover up those mistakes and sometimes you can just add something to make it look like the mistake is supposed to be there. 
Perfection is a real myth.  I am not sure who invented that word, but trying to be perfect will not get us anywhere.  Life is all about imperfections.
So now, on to my card, which by the way is not perfect.  It has a mistake on it and it has been camouflaged and the recipient will never know.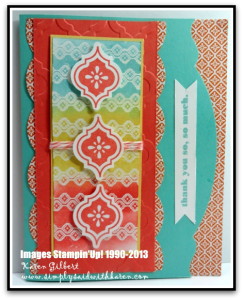 Stamps: Mosaic Madness (c-130249, w-130246, p.123 2013/14 Annual Catalogue), Delightful Dozen (c-122652, w-128547 p.27 2013-14 Annual Catalogue)
Papers: Coastal Cabana, Calypso Coral, Whisper White, So Saffron, Quatrefancy DSP
Ink: Calypso Coral, Coastal Cabana, So Saffron
Accessories: Big Shot, Adorning Accents Edgelits, Large Scallop Edgelits,Modern Mosaic Embossing Folder,  Versa Mark, Whisper White Embossing Powder, Mosaic Punch, Stamp-a-ma Jig, Calypso Coral Bakers Twine, Sponges, Sponge Daubers
Can you spot the mistake?  It's hidden below the banner and the person receiving this card, will never know it there.
So, get creative, book a workshop and just go for it.  You are unique.

To book a workshop, contact me by EMAIL.
Happy Stamping