Create Stencils with Framelits or Thinlits
Create Stencils with Framelits or Thinlits
Do you know how easy it is to create stencils with your framelits or thinlits?  It's very, very easy!!  You need a Big Shot, a thinlit such as the diamond shaped one from the Eclectic Layers Thinlits, and a piece of Window Sheet.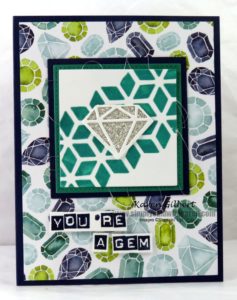 Recipe
Stamps: Oh So Eclectic, Labeler Alphabet.
Ink/Marker: Emerald Envy, Night of Navy.
Paper: Night of Navy, Emerald Envy, Whisper White, Silver Glimmer, Naturally Eclectic Designer Series Paper.
Accessories: Big Shot, Layering Squares Framelits, Eclectic Layers Thinlits, Stitched Shapes Thinlits, Embossing Paste, Palette Knives, Silver Metallic Thread, Silicone Mat.
A Few Details
When you decide which thinlit you would like to use as your stencil, place the die onto the Window Sheet and run through the Big Shot.  Voila!!! It's that easy.
Mix Embossing Paste with Emerald Envy reinker.  You don't need a lot of ink, just a drop will do.  Lay your stencil on your cardstock and use one of the pallette knives to spread the Embossing Paste over the stencil.  Use the Silicone Mats to mix the ink into the Embossing Paste and to apply to stencil and cardstock.
To see a video on the Embossing Paste and How to Use It, click on LINK.
A few additional details to create this card are:
Choose what you want to say on the card front.  The Labeler Alphabet is great for creating you own sentiments. I chose the solid back ground letters, ink up with Night Of Navy and stamp on Whisper White cardstock.  When you use the Labeler Alphabet, the letters to not have to be straight.  That's the quirkiness of these letter. Of course, the "You're a Gem" goes along with the Diamond piece in the middle of the textuized panel.
Silver Metallic Thread is wrapped behind the textured panel.  Add some additional texture by using one of the square framelits from the Stitched Shapes Thinlits.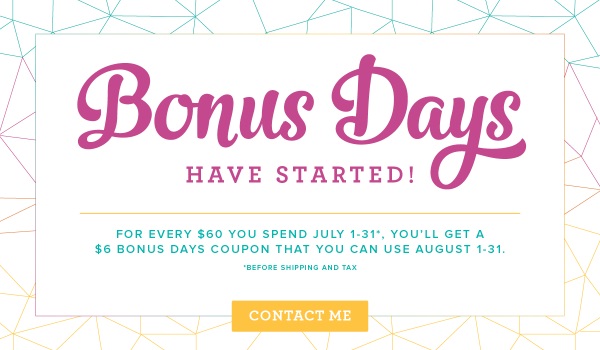 Don't forget it's Bonus Days.  For every $60.00 order, receive a $6.00 Bonus Coupon to use in August.  There is no limit to the number of coupons you can receive and use.  Just remember the magic number is $60.00.
Create  stencils with products from my ONLINE store.
Click on any of the product pictures below to order.

Product List