Create a Triple Stamped Birthday Card.
Triple Stamped Birthday Card
You maybe thinking "what is a triple stamped" card?  Well, I am going to let you know how you can use this technique and use your stamps for many different cards.
There are a couple of ways that you can do triple stamped cards.  One is to use the Stamp-a-ma Jig (CLICK for Video) or you can use multiple stamps and layer each stamp on top of the other.
Here is a picture of the various stamps in the Garden in Bloom stamp set and I have drawn lines around the stamps that you would use to create each stamped image. For example, the large flower has an outline image, the fill image and an accent image.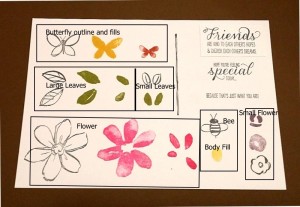 Below is a picture of the 3 stamps: the outline stamp, the fill stamp and the accent stamp.  You will notice that I have drawn a line to the guide on each of the stamps.  Now you are ready to create that triple stamped card.
On the cardstock and using a pencil,  mark a dot near the top and middle of the cardstock.  Place the stamp so that the guide is placed over your pencil mark. Now stamp your outline stamp with the ink of your choice (I used Rose Red). For the fill stamp, ink up your stamp with a lighter colour (I used Blushing Bride) than the outline stamp and line up the guide so that it is pointing in the direction of the pencil mark.  Because these stamps are clear and you can see through them, you will be able to see the outline of the first stamp.  Stamp your fill stamp.  It doesn't have to be perfect as the image is supposed to appear as though it was watercolored.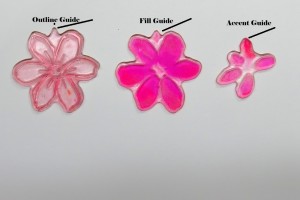 Now use the same process for the accent stamp.  I used the Rose Red to create the accent.
Fill in with the leaves, smaller flowers and bumble bee using the same triple stamped technique.
This card I made for my Mom who will be celebrating her 91st birthday in December.  At the beginning of the year, we didn't know if we were going to be able to celebrate another birthday with her.  We, as a family, are so grateful that she recovered from her illness and is once again going strong.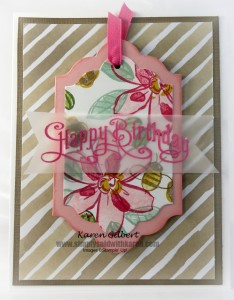 Recipe:
Stamps: Garden in Bloom, Perfectly Penned.
Ink/Markers: Rose Red, Blushing Bride, Hello Honey, Mint Macaron, Mossy Meadow, Old Olive, Soft Suede.
Paper: Thick Whisper White, Soft Suede, Blushing Bride, English Garden DSP, Vellum.
Accessories: Big Shot, Lots of Labels Framelits, 1/8" Handheld Circle Punch, Clear Embossing Powder, Melon Mambo 1/2" Cotton Ribbon.
The sentiment from the Perfectly Penned stamp set was inked with Blushing Bride ink and stamped on Vellum.  Without waiting, emboss with Clear Embossing Powder.
So next time you create a card and want to try a new technique, try the triple stamped.  You will have fun. Do you have a triple stamped card?  Leave me a comment and upload your card.  I would love to see it.