Convention 2013 – Making A Difference
Convention 2013 – Stampin' Up!  Making a Difference
Convention 2103,   – and the theme is "Making a Difference".  This year there are a number of events planned around that theme.  Tonight, we are trying to break a record – that record is to exceed the number of mailed cards from a single location and event.
We were all asked to bring a card to send to someone – that card must have images on the front and something on the inside – decorated, written.  There will be verification that these two criteria have occurred on the card.  It will be a fun happening as we try to break the record.
There are 5800 people attending Convention 2013 this year, so lets hope we get the job done.
Convention 2013 is going to be a bit different this year, so we don't know what Stampin' Up! is planning for us – all we know it will be good – swapping, prize patrol, recognition, idea boards, and classes – oh, yes, there are always the exciting announcements – -I wonder what they will be this year.
I have done some swapping already and here are some of the cards.  I will have more to share over the next few days, so don't forget to check back often.
First though I want to share a picture taken the other evening as we had a ride back to the hotel because it was pouring down rain.
Here are Elaine, Diane and myself in a horse and buggy.  The horse's name was Miss Liberty and she took us right to the front door of the hotel.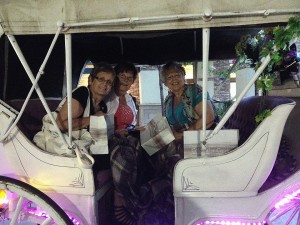 So now, here are some of the swaps I received.
I hope you enjoy these few  tidbits of information about Convention 2013.
 Happy Stamping