Some Of My Christmas Celebrations
Christmas and the celebrations that occur are somewhat finished at my house.  I took all the decorations done and packed them away for another year.  Why so early?
Well, it's time to get ready for another trip.  This time a cruise to the South and Western Caribbean….yes 2 weeks in the glorious sun and on the blue water.  We have had just too much snow so far this year.  Besides, I will get a break from shoveling.
So, down came the decorations, to make way for the suitcases.
But first, I would like to share a few of my Christmas celebrations.
I completed 2 more cross stitched stockings this year, one for my son and one for my son-in-law.  It gets so hectic around Christmas, that I forgot to take pictures, so took one of my son's stocking on Christmas Eve.  I still need to get one of my son-in-law's but that may have to wait until next Christmas.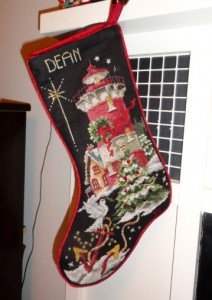 I have had the pattern for years and was a little hesitant about cross stitching on black.  However, it wasn't as bad as I thought it would be and I really enjoyed working on this one.  There were lots of embellishments to attach.
The second tradition that I would like to share are the pictures of me and my grandchildren in their Christmas jammies.  Somehow, Christmas Eve just wouldn't be  complete without the Christmas jammies.
So then, it was off to bed so that Santa could make his visit….and make his visit he did.
I hope your Christmas was surrounded by the love of family as mine was.
Karen