What To Do When Your Christmas Card Ideas End!
Do Your Christmas Card Ideas End?
When your Christmas card ideas end, what to you do? It's no fun when that happens!.  The best remedy "Take a Break from creating Christmas Cards".  Stop looking at Pinterest, Facebook and Blogs for Christmas ideas.
As the Christmas and Holiday Season roll along, we tend to get into a frenzy and live my the mantra "have to make the cards, have to make the cards".  Stop, take a breath and think to yourself why am I doing this?
Do I have a deadline, or do I have a number of card to make in my mind?
What you need to do is take a break from creating Christmas cards. And that is exactly what I did so that I could take a break.  Why do we put so much pressure on ourselves.  The holiday period is a time to enjoy with family and friends.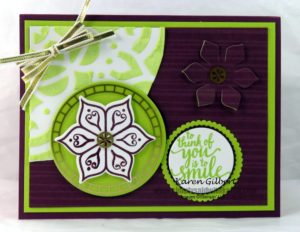 Recipe
Stamps: Eastern Beauty.
Ink/Marker: Lemon Lime Twist, Fresh Fig.
Paper: Fresh Fig, Lemon Lime Twist, Whisper White, Eastern Palace Specialty Designer Series Paper.
Accessories: Big Shot, Eastern Medallions Thinlits Dies, Circle Collection Framelits, Eastern Gold Vinyl Stickers, Gold 1/8" Ribbon, Embossing Paste, Pattern Party Decorative Masks, Palette Knives.
Create a general type of card as I did.  Use the Eastern Beauty stamp set and the matching Eastern Medallions Thinlit dies. You can create so many different cards with this set by incorporating the dies and stamp sets in different ways.  As well the Eastern Gold Vinyl Stickers add more possibilities.
Finally, create the background using the Pattern Party Decorative Mask (the one that matches the Eastern Beauty Suite). Spread the Embossing Paste mixed with Lemon Lime Twist ink on a quarter of the mask and remove.
With this break from Christmas cards, you will feel refreshed to create Holiday and C.Christmas cards.
So if your Christmas card ideas end, take a break.  If you wish to recreate this card, click on any of the product pictures below and you will be taken to my ONLINE STORE.
Product List