Chalkboard Valentine , Week 3 of Sale-a-Bration, and an Inventor
It's a Chalkboard Valentine for Week 3 of Sale-a-Bration.  If it hadn't been for Thomas Edison, I wouldn't have been able to do this card.  It's Edison's birthday today and I know I couldn't live without his inventions…the main one we remember is the invention of the light bulb that shed a whole lot of light on the subject (no pun intended).
Why couldn't I do this Chalkboard Valentine without Edison?  The biggest reason is that I wouldn't have been able to see what I was doing.  We are grateful for all Edison's inventions right down to the heat gun that I used to melt the embossing powder.  Edison didn't invent the heat gun, but he was the Father of All Inventions.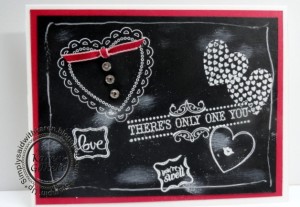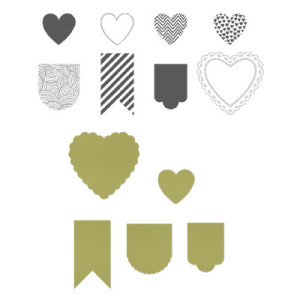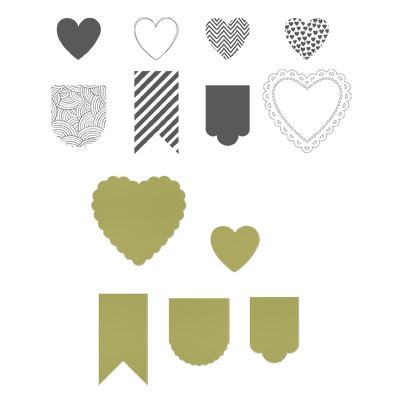 Stamps: Hearts a Flutter ( c – 129252, w- 129249, p11 2013 Spring Catalogue), Vintage Verses (2013 SAB), Ciao, Baby  ( c – 129648, w- 129645 p16 2013 Spring Catalogue), Itty Bitties (w-128939 p.25, 2013 Spring Catalogue)
Paper: Whisper White, Real Red, Basic Black
Ink: Whisper White Craft Ink
Accessories: Versa Mark, White Embossing Powder, Real Red 1/4" Ribbon, Rhinestone Jewels, White Gel Pen
When doing this technique, it is the best to stamp and emboss one image at a time.
Directions:
Cut Whisper White card stock 5-1/2″ X 11″.  Score at 4-1/2″ and fold.

Cut Real Red card stock 4″ x 5-1/4″

Cut Basic Black card stock 3-3/4″ x 5″

Before stamping, wipe the Basic Black card stock with an Embossing Buddy (a used dryer sheet can be substituted).  The Embossing Buddy will help to eliminate the static cling on your card stock so that you won't get those little flicks of embossing powder showing up on your card.

Using the large heart stamp and a couple of the littler ones,, sayings from the Ciao, Baby and the Vintage Verses randomly stamp on the Basic Black card stock using Versa Mark…this type of stamping will form a collage.

Emboss the images using a heat gun and White Embossing Powder.

Tie a knot in the Real Red ribbon and trim the ends.  Attach to large hear using glue dots.

Attach 3 large rhinestones to the large heart.

Using the White Gel Pen, outline the images…doesn't have to perfect or straight.

The final step is to make the basic black card stock look like a blackboard by taking a Sponge Dauber and Whisper White Craft Ink and sponge randomly on the card front.

Attach all panels to Whisper White card base.
Have fun with this…it doesn't have to be perfect and neat.
There, you have it, a perfect Valentine's card for that special someone.
Happy Stamping
Karen