Celebrate Today – Crackerjack Milestone
Did you know that today, February 19, 1913 was the first time Crackerjack put a prize in their box of caramel popcorn?  Growing up over the years, I am sure that everyone has had a box of Crackerjacks and was it for the popcorn or the prize?  I always coveted the prize and I am sure that others did as well.  So today, I celebrate the Crackerjack milestone.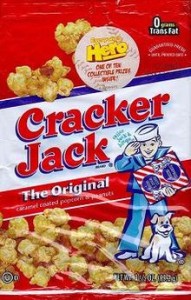 It's all about marketing your brand and even though the prize wasn't valuable money wise, it was sure valuable to those that discovered one in the box.  The fun was searching the box before eating any of the Crackerjack popcorn.  As I write this post, I can taste the popcorn and memories of the red box come flying back. 
So to celebrate Crackerjack's Milestone, I have a card using the Feeling sentimental stamp set which fits with the nostalgia of the day.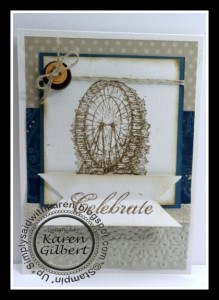 Stamps: Feeling Sentimental (c – 129630 w- 129627, 2013 Sale-a Bration)
Paper: Naturals White, Midnight Muse, Sahara Sand, Print Poetry DSP, Sahara Sand DSP Neutrals Stack)
Ink: Soft Suede
Accessories: Big Shot, Delicate Designs Embossing Folder, Linen Thread, Naturals Designer Buttons,  Natural 7/16" Trim Ribbon
This stamp set is great for a walk down memory lane and has two other images that are nostaslic as well.  Check back for a post on them as well.
Did you notice that I have a new page on my blog?  Check out the Cool Tool Tip videos that have been posted.  Lots of great tips and techniques.
 Happy Stamping and I will see you next time.