Bubble Wrap For A Technique
Bubble Wrap?
Bubble wrap, yes, your ordinary bubble wrap that is used for wrapping and storing breakable items can be used to create a fabulous effect on a card.
This is a technique that was demonstrated while I was at an upline meeting.  Yes, it was great to spend time just stamping and visiting. 
This technique can be used on so many different types of cards or tags.  I do have a tag that I have done using this technique and I will post it later.
I have done a video that shows you how to do the technique and it is much easier than explaining it in the post.
But first here is the card.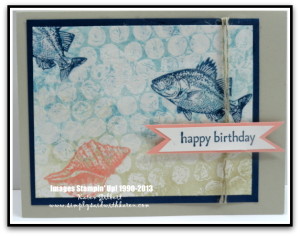 Stamps: By The Tide (c – 129120, w-1131910 p 77 2013/14 Annual Catalogue,
Paper: Sahara Sand, Midnight Muse, Whisper White
Ink: Crisp Cantaloupe, Midnight Muse, Soft Sky, Marina Mist, Crumb Cake
Accessories: Linen Thread, Versamark, Clear Embossing Powder
Other: Piece of Bubble Wrap
This video also is part of the COOL TOOL TIPS that you can view HERE
Yes, the 2013-2014 Stampin'Up Catalogue will be live at 12:01 am MST and you can view it HERE. 
However, ordering products will not be available until 12:01 pm MST as Stampin' Up! will need to change and update the Online Store with the new products and remove the retired products. 
You can order at 12:01 MST HERE
If are ordering, please be patient as I am sure that the website will be busy.  You can also email me your order HERE
Give this technique a try and just have fun with it.
Happy Stamping
Karen