Black Friday Sale and The Cyber Monday Hype
So what is the Black Friday Sale and the Cyber Monday hype all about?  Black Friday occurs the day after the US Thanksgiving holiday and it is a day to shop to you drop and the shopping continues all weekend and into Monday ending with the Cyber Monday specials.  It used to be the Black Friday was a day when retailers would slash prices hoping to get the shoppers in for their Christmas gifts and have their business end up in the black for the year – that means survival and staying in business. 
Cyber Monday is a relatively new player and as internet shopping gets bigger so do the number of merchants and shoppers who participate in the Monday sale. 
And yes, I am offering a Black Friday/Cyber Monday Special.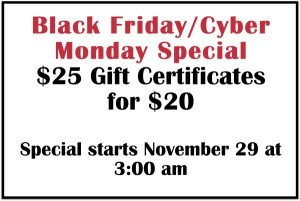 Gift Certificates are an easy gift – to see all the features go to this link
http://simplysaidwithkaren.com/gift-certificates-black-friday-cyber-monday-special/
And, yes, the Black Friday special really does start at 3:00 am on Friday, November 29th.
So sit back, relax, grab a coffee and shop from home – What could be easier.
Check back Friday or better yet, sign up for my Email list and get an email in your inbox reminding you of the Black Friday Sale.
You can sign up by visiting the link below
http://products.simplysaidwithkaren.com/subscribe/
Happy Stamping