A Birthday Card for a Special Person
A birthday is something to celebrate especially when you reach the age of 89.  Can you just imagination the number of changes in the world in 89 years.
Some of these are the digital age, with computers, tablets, cell phones and the man on the moon.  The one thing that has always remained constant for my Dad is his family and his undying loyalty to the Toronto Maple Leafs hockey team.  He has never wavered once in that loyalty even when they have not won a Stanley Cup since I don't know when.  It was always Hockey Night in Canada in Saturdays at our house.
One of the things my Dad loved to do was go fishing.  So when I saw the "By The Tide" stamp set in the Spring 2013 catalogue, I envisioned his birthday card.
I had so much fun with this card, adapting the Petite Purse die so that I could use it as a fishing pack.  I'm not sure what type of fish this is but I heat embossed it with Silver Embossing Powder on Sahara Sand and then sponged it with Cajun Craze, Crumb Cake and Baja Breeze inks.  Of course, there was the fussy cutting to go along with it.
One of the techniques I just love is masking and sponging.  You can make such great scenes and I tried to create a river bank and the sky by using a cloud template and then using the Cloudy Day embossing folder and different colours of browns for the river bank.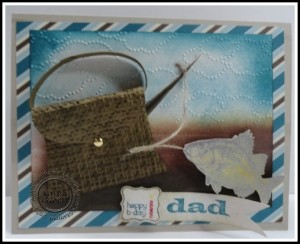 Stamps: By the Tide (c – 129120, w- 129117, p129 2013 Spring Catalogue), Family Reunion (c – 122712, w- 122710, p138 2012/13 Annual Catalogue) Pretty Petites
Paper: Sahara Sand, Naturals White, Crumb Cake, Print Poetry DSP Stack
Ink: Island Indigo, Marina Mist, Chocolate Chip, Crumb Cake, Early Espresso, Summer Starfruit
Accessories: Big Shot, Petite Purse Die, Cloudy Day Embossing Folder, Lattice Embossing Folder,  Woodgrain Embossing Folder, Versamark, Silver Embossing Powder, Linen Thread, Gold Metallic Brad, Markers: Early Espresso, Island Indigo, Real Red, Daffodil Delight, Sponge Dabbers, Sponges
Before I close this post off, I have something to say about what happened at the finish line at the Boston Marathon.  My heart and thoughts go out to those who lost their lives and those who were tragically injured.  
Yesterday, we had another change in our lives caused by thoughtless people who planted bombs at the finish line of the Boston Marathon.  How tragic, as a number of people were killed and many injured and others scarred for life.  What possesses these types of people to cause havoc on others lives?  What are they trying to prove?  What type of vendetta could possibly be so strong as to comment an offense against innocents. 
Why can't we just all get along?  Why do people consider themselves to be more right than others.  I don't have the answers.  I just hope the authorities find the person or people responsible for the despicable act.
Pardon my rant but I am getting really tired of being help hostage by others.