Why do we just want to cuddle Babies?
Everyone has their own special reason as to why they want to cuddle babies, and for me it's because it been over 6 years since I cuddled the last baby. 
Last Sunday I was invited to a Baby Shower to welcome Brody, a dear friend's 4th grand-baby.  How special these little ones are.  You sit and hold them, and they snuggle in and all of your motherly and nurturing senses come to the fore front.
So trusting and so innocent and we all have the opportunity to shape their lives.  What a responsibility! 
So, I was able to ink up a baby stamp, which I discovered I didn't have many of.  Like 1.  What happened there.
Most likely, because there are not many babies in my life anymore.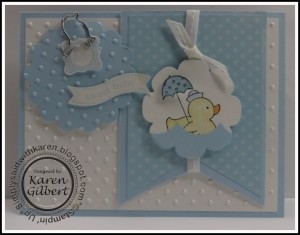 Stamps: Easy Events (c – 132225, w- 116958, p34 2012/13 Annual Catalogue), Itty Bitty Banner (c – 126257, w- 126255, p134 2012/13 Annual Catalogue) Pretty Petites
Paper: Bashful Blue, Whisper White, Bashful Blue Subtles DSP Stack
Ink: Bashful Blue, Pumpkin Pie, So Saffron, Black Stazon
Accessories: Big Shot, Floral Frames Framelits, Bitty Banners Framelits, Perfect Polka Dots Embossing Folder, Tasteful Trim,   Blender Pen, Whisper White 1/4" Stitched Grosgrain Ribbon, Elements Cute Clips
 I had so much fun making this card and included one of the clips from the Elements Cute Clips that are still available until May 31st in the Spring Catalogue.
Stampin' Up! also released their retiring stamp and embellishment lists today.  Some items are up to 60% off their original price. Click on the links below to view the PDFs.

Some of these items will sell out fast, so if there is something that you just need to have, run, jump and skip to my ONLINE STORE
Happy Stamping