Babies are so adorable!
Babies are for cuddling, cooing at and adoring them.  When you have 1 new baby, you can be busy, can you imagine having two new babies?  Busy x 2!!!
One of my former co-workers did have two new babies, or affectionately known as "Instant Family".  This is the second baby card that I have done in the past couple of months and it was at least several years prior to that I had done a baby card.
I find that these events (not the twin part) come in spurts and there seems to be a pattern….first, it's the pet.  And this couple had 2 pets of the same breed, so there appears to be a pattern there!  Or maybe it's just my imagination.
I did acquire another baby stamp as I just had the one that I did the previous card with, so why not have another one….  I know, any excuse for another stamp set!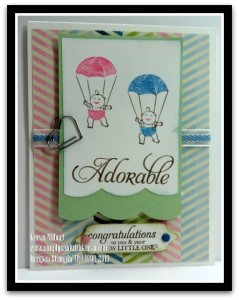 Here is the supplies that I used:
Stamps: Sweetest Gift (c – 130586, w- 130583, p59 2013/14 Annual Catalogue)
Paper: Whisper White, Pistachio Pudding, Tea for Two DSP, (2013 Occasions Catalogue)
Ink: Soft Suede, Soft Sky
Accessories: Big Shot, Large Scallop Edgelits, Markers: Marina Mist, Regal Rose (Retired), Subtles Candy Dot, Marina Mist Striped Organdy Ribbon (2013 Occasions Catalogue), Mosaic Punch, Elements Cute Clips (2013 Occasions Catalogue)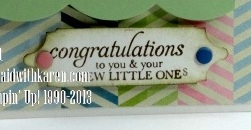 Notice how the sentiment is punched on the ends using the Mosaic Punch.  When you can find other uses for your tools, that is a bonus.  I also had to find an "s" to put on the end of the sentiment.  
Happy Stamping!