Awesomely Artistic Soft and Peaceful
Awesomely Artistic
This stamp set will make you awesomely artistic!  Of course, you are probably wondering why I think that a stamp set can make you artistic.
Use this stamp set to create a variety of cards using different techniques.  Can  you spot the techniques?  No? Well, the techniques used are: watercolour, heat embossing, die cutting, splatter, and emboss resist, But, you think, I use those techniques how does that stamp set make be artistic.  Because it's not what you use, but how you use it.
It's about placement of the stamps, layers, embellishments, to die cut, embossing, watercolour or not, In other words, what I am saying is, just by picking up a stamp and stamping with it makes you artistic in the world of paper crafting.
Can you see what I am saying?  I always say that "creativity and artistry" is in the eye of the beholder.  What one person thinks about a piece of art can can differ drastically from another person.  The art may be pleasing to their eye for a number of reasons, such as, placement of the different elements.
So, never let anyone tell you that you are not artistic.  And never self-talk yourself into believing that you are not artistic.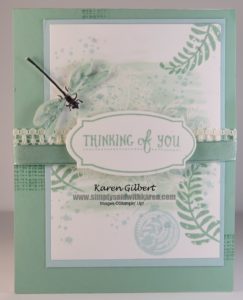 Recipe
Stamps: Awesomely Artistic, Basket of Wishes.
Ink/Markers: Soft Sky (ink pad and marker), Pool Party (ink pad and marker), Basic Black Marker, VersaMark.
Paper: Whisper White Thick and Reg, Pool Party, Soft Sky.
Accessories: Big Shot, Rose Garden Thinlits, Mint Macaron 3/8" Sheer Linen Ribbon, Very Vanilla 1/2" Lace Trim, White Emboss Powder, Clear Emboss Powder Aqua Painter Brush.
This card is commonly known as a collage card because of all the different elements that are blended into each other.
First the main image was stamped in VersaMark and embossed with White Emboss Powder. Don't  forget to use your embossing buddy. Then, using the Aqua Painter Brush, wash the over the embossed image with Soft Sky ink mixed with a bit of water.  Stamp the ferns, the splatters and circle image with Pool Party.
Using the Soft Sky and Pool Party markers, colour the dragonfly wings and colour the body with the Basic Black marker.  Lay the dragonfly image in the VersaMark Pad and emboss with Clear Emboss Powder.  Finally, cut out the dragonfly with the Paper Snips.
Stamp the bottom layer with the dotted stamp and Pool Party ink.  Attach the different layers and embellish with the ribbon and lace trim.
For more ideas using the Awesomely Artistic stamp set, click on these links:
It's easy to be Awesomely Artistic?
Product List