Amazing Birthday Celebration
Hope You Had an Amazing Birthday
A birthday is amazing and needs to be celebrated.  I always feel that the alternative is not that great.  I know some don't like to celebrate their birthdays but after all it is your day and does it matter how old you are?  I don't think so. It is quite funny how people react to their ages.
A child will tell you exactly how old they are, a teenager will attempt to find fake ID depending on what they want to do, a young adult doesn't like to tell, a middle aged person will try anything to make you think they are younger than they are and then the older person depending on how close they are to 90 will tell you an age that makes them older than they really are.  There is something about living beyond 90 that gives reason to celebrate.
We continually go through life making sure that people really don't know how old we are.  Of course this is not based on a science but what I have seen and hear over the years.  And, I'm sticking to it.

So now, on with the Amazing Birthday.  Can you guess which stamp set I used?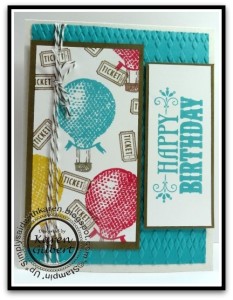 Stamps: You're Amazing (c-126722, w-132103, p. 33 -2012/13 Annual Catalogue)
Paper: Naturals White, Whisper White, Soft Suede, Bermuda Bay
Ink: Bermuda Bay, Soft Suede, Crushed Curry, Real Red
Accessories: Big Shot, Argyle Embossing Folder, Early Espresso Bakers Twine
Can you see which are the new colours?
This stamp set can create a real quick birthday and it can be used for a man card as well.  Sometimes its really difficult to do man cards, however, this one works.
You can shop for this stamp set HERE.
So if you are in need of a man card, this stamp set will do it for you. 
Happy Stamping!
Karen