A Special Sister Birthday
A Sister Birthday is Special
A sister birthday is so special when it's your older sister who will be 94.  When you are reach 94 years young, every birthday is special.
This is my Mom's sister's birthday and because there are only the two of them left in their family, they have a very special bond.  My Mom is the youngest of 14 children and will celebrate her 89th birthday in September.  My Aunt is the next oldest and they were very close growing up.  As my Aunt lives in Saskatchewan they try to see each other every couple of years because, "you just never know".  They speak often on the phone.
I loved creating this card as I thought about my Aunt and the fun times we would have when we visited their farm. 
They lived in a small community about a 1/2 hour drive from Swift Current.  There were grain elevators, outdoor biffies, a pump to get your water, a telephone with bells so you knew which call was for you (and of course the party-lines) and always great food. 
A couple of times my Dad went back and helped with the harvest and ran the tractors.  It was just like you read in the stories with the farmers gathering and helping out one another to bring in the harvest.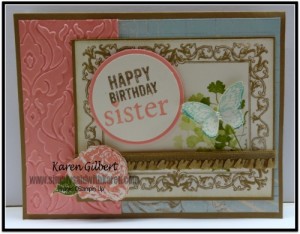 The Crisp Cantaloupe and the Baked Brown Sugar new In Colors go so well together and really make this card feel vintage.  As well the new Etcetera Designer Series Papers also lends itself to the vintage feel.
The frame was masked and the leaves stamped 3 times without re-inking in between times.  The butterfly and the flower are doubled so that there is a 3-D effect.
Recipe
Stamps: Papaya Collage (c – 126612, w- 132055 p62 2013/14 Annual Catalogue), Label Love (c – 130622, w- 130619, p33 2013/14 Annual Catalogue), Loved Ones (retired)
Paper: Baked Brown Sugar, Crisp Cantaloupe, Very Vanilla, Whisper White, Etcetera DSP
Ink: Baked Brown Sugar, Crisp Cantaloupe, Pool Party, Old Olive
Accessories: Big Shot, Beautifully Baroque Emboss Folder, Circles Collection, 1-3/4" Circle Punch, Pearl Jewels, Baked Brown Sugar 3/8" Ruffle Stretch Trim, Markers: Baked Brown Sugar, Old Olive, Crisp Cantaloupe
Don't forget the My Paper Pumpkin promotion ends on August 31, 2013.  Become a new subscriber and visit this link.  
My Paper Pumpkin Promotion
Use the Promo Code PUMPKINDEAL and receive two months at the special price of $12.50/month plus taxes.  After the 2 months, the price will return to $24.95 plus taxes per month.  As a new subscriber you will receive the starter My Paper Pumpkin which contains a clear block valued at $12.95. 
For more information visit this link
Happy Stamping