2017 SU Holiday Catalogue Triggers Holiday Creations
Holiday Creations Triggered By the 2017 SU Catalogue
Holiday creations for Thanksgiving, Halloween and Christmas are coming to a catalogue near you. Yes, it's that time again when we start to plan for those holidays.  What better way to plan than to see holiday sneak peeks.
As we get ready for fall and thanksgiving, the Painted Autumn suite will be first on your list.  The Painted Autumn stamp set, the Leaf Punch, and the Painted Autumn Designer Series Paper will trigger your creative juices.
When I first saw this suite, I just new that it was on my "must have" list.  The designer series paper display all our favourite fall colors, such as Cajun Craze, Crushed Curry, Garden Green, and Tangerine Tango.  Fussy cut the brilliant sunflowers, and pumpkins and use just as they are on any of your greeting cards.
The images look like watercolor.  Stamp the sunflower and/or the leaves in 2 different shades of one color and see them come to life.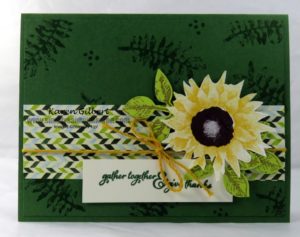 Recipe
Stamps: Painted Harvest.
Ink/Marker: Garden Green, Crumb Cake, Early Espresso, Crushed Curry.
Paper: Garden Green, Whisper White, Lemon Lime Twist, Painted Autumn Designer Series Paper.
Accessories: Leaf Punch, Crushed Curry Solid Baker's Twine.
A Few Details
The card base is Garden Green with a layer of Garden Green cardstock.  Stamp the watercolor full leaves randomly over the panel using Garden Green ink.
Use the new leaf punch to punch 3 sets of leaves for the sunflower.  Stamp the leaves with Crumb Cake ink on Lemon Lime Twist cardstock.
Stamp The sunflower on Whisper White cardstock using Crushed Curry ink.  I stamped off the washed image and stamped, followed by stamping the defined flower with full strength ink.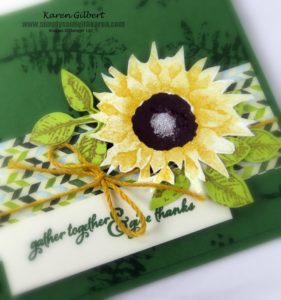 In addition to creating cards with this suite, create some beautiful packaging and tags.
Check back to my blog often for more holiday creations.
Did you earn Bonus Coupons in July?  You can use them this month and get a head start on your holiday creations.  See what you can get in August!